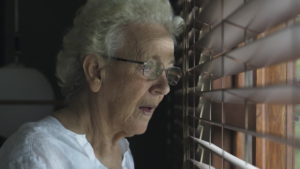 On a typical fall morning Beth Reese waited for a car service at the window of her home in Bay Village, OH. She was scheduled to see a cardiologist for shortness of breath that had become a growing concern to her. The time for her appointment at the Cleveland Clinic got closer and Beth began to become very anxious. Eventually she made it to the waiting room with five minutes to her appointment. While sitting there she began to become confused and sounds of the busy clinic became staticky. Beth was totally unaware as why she was there in the first place. The receptionists ask for her name but she simply could not recall it. "Do you perhaps to be Mrs. Reese who is waiting to see Dr. Klarr?". "Yes", she replied. "The doctor should be with you in five minutes". She advanced to the exam room and the doctor began discussing her issue of shortness of breath. At the same time Beth was totally unaware of why she had come to the clinic.
Was this the beginning stages of Dementia or Alzheimer's? According to the WHO, and estimated 47 million people in the world experience Dementia. However, how to caregivers know what is Dementia and what is Alzheimer's. If these questions are being asked it's important that the patient sees a Neurologists as soon as possible. Someone who experience a serious loss of memory can become disoriented and even lost. This becomes more dangerous when the patient lives by themselves. They may forget if they took their medication or go outside for a walk and not know how to get back home.
According to the National Institute of Aging (NIA), "Alzheimer's disease is an irreversible, progressive brain disorder that slowly destroys memory and thinking skills and, eventually, the ability to carry out the simplest tasks. It is the most common cause of dementia in older adults. While dementia is more common as people grow older, it is not a normal part of aging".
Dementia is merely a symptom which could be the beginning stages of Alzheimer's or one of many neurological conditions. Like a toothache, the pain is the symptom while the source of what's causing it may be a cavity or an infection. Other common causes of dementia are Huntington's Disease, Parkinson's Disease and Creutzfeldt-Jakob disease.
When adults 65 and older sit with a neurologist the doctor may refer to thier condition as Dementia because the term Alzheimer's can sound very overwhelming and frightening. Dementia is not a specific disease but rather a term that refers to symptoms of mental and communicative impairment. Alzheimer's on the other hand disturbs the normal functionality of the human brain.
How do caregivers comprehend the pain of Dementia?
Friends and family can often get frustrated with the one who is experiencing Dementia. However, if they would be able to understand the pain of what the patient is going through their reaction may be a bit more moderate. An idea of tapping into Dementia is like was brought to life by the Virtual Dementia Tour which has been featured on many TV broadcast nationwide.
P.K Bevel, PHD/PSYD founded the Virtual Dementia Tour which allows caregivers to experience what Dementia is really like. Those who wish to take the challenge are first given swimming goggle to wear which only have light coming in through a nickel size whole for both eyes. Then their shoes are filled with hard corn, hands given latex gloves to wear, and the index and middle finger taped together on both hands. Finally, they are fitted with a headset which has annoying static played and are given 5 house chores to complete.
As you can imagine the simplest task like folding laundry and putting away dishes become a huge stress. These people even began speaking to themselves just like the patient they provide care for. We also take note of the extreme anxiousness similar to that of a loved one constant knee shaking. For all of the participants it was a huge eye opener which helped them empathize with the parent, grandparent, or spouse. The next time the caregiver gets frustrated with patient they will think twice before lashing out.
At the Senior Comfort Guide, we supply families with the proper guidance when it comes to Alzheimer's care or general information on Ohio nursing homes.  It may be overwhelming taking care of a loved one and for their safety it may be wise to entertain moving to a memory care community. Please feel free to email us for support or assistance on the best option for your family at info@seniorcomfortguide.com.