When a parent or grandparent enters the ripe years of their life caregivers often deal with a very sensitive issue. For a lifetime these adults could help themselves and suddenly they begin losing their independence. Try and imagine waking up one day and not being able to walk to the bathroom. Besides for being extremely uncomfortable its outright embarrassing. Or how about putting together a morning breakfast. This requires going to the grocery store, bringing packages into the house, taking out ingredients, bending down to get a pot, and finally preparing the dish. These aspects now become a major challenge which is a blow to a senior's self-confidence. No matter how the caregiver breaks it to them of how they have to begin to take a back seat it will break their confidence which ultimately leaves them feeling frustrated and angry.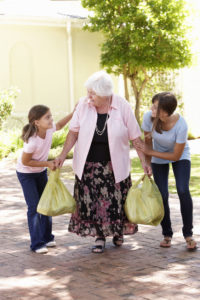 As the family goes through this stage its essential to get their hands on the Senior Comfort Guide or reach out to a local senior adviser. Having proper guidance for what senior assistance is needed and which is optional is vital. Some advisers might suggest considering assisted living facilities while others simply say to get 24 hours at home help. Home aids often can be covered by Medicaid, if not fully at least partially. Perhaps rather come on to an outsider help then burdening the family.
However, living at home instead of a facility comes with its own bag of challenges. The home will have to be upgraded with supportive rails, stair lifts, ramps, and more. This could easily cost anywhere from $10,000 to $20,000. Even with an aid that's in the house someone still must make sure that meals are served and basic food supply is available. In addition, the parent or grandparent will begin to lose their social life that once thrived. Here in Northeast Ohio, the winter months are long and extremely cold. Not seeing friends could be a major blow to that individual overall mood.
It is for this reason that nursing homes and independent living facilities having become popular. Thank G-D, people are living longer and need to be cared for while keeping them upbeat. Besides for regular social interaction, your loved one will have access to an array of health care services. One important service offered in these facilities is physical therapy. Such activity can help muscles stay in shape which ultimately allows that individual become more mobile. Having an elder remain at home with lack of exercise might make their mobility deteriorate even more. Even if a physical therapist comes to the home it won't compare to a therapist associated with a facility.
In any case scenario its essential that the caregivers should oversee that friends and family often visit. Scheduling visits and making a point to call your loved one regularly, can go a long way. Keep in mind let them know in advance when you come. It can be very stressful to a senior when a visitor pops in on them unexpectedly.
Here are some final imperative thoughts on this topic for the caregiver to keep in mind. Based on clinical studies, what an older adult fears most is not death, but rather losing their independence. The family needs to understand that this a traumatic event which needs to be dealt with patiently and carefully.
When you engage in the conversation about senior care with a loved one be sure that all communication lines are open. You need to understand their perspective first and represent the idea of independent living as an opportunity which sets them up to be the decision maker. Don't focus on the CANT'S but rather on the CAN's. Instead of telling them how they won't be able to go out to the grocery store by themselves, tell them about the idea of having a vital social life. This will get your loved one thinking positively which will benefit both parties.
Whatever your family's decision will be, the Senior Comfort Guide can be an aid when helping you with these decisions. Especially, when looking for senior care in the North-East Ohio region, we are the premier guide for Ashtabula, Columbiana, Cuyahoga, Geauga, Lake, Lorain, Mahoning, Medina, Portage, Stark, Summit, Trumbull and Wayne counties.
You can always feel free to reach out to us at info@seniorcomfortguide.com
Allen Czermak, Head of Regional Marketing at SCG